Ford is always looking for ways to improve your driving adventure, and this summer is no different. Get ready for an even more exciting ride with the newest version of Ford's cutting-edge hands-free driving feature - the BlueCruise 1.3! This exciting new feature is all set to debut in the super cool Ford Mustang Mach-E in just a few weeks.
While Ford initially kept us in suspense, not giving us many details about the changes coming with BlueCruise 1.3, they've finally let us in on the secret. Let's dive into what you can expect from this exciting upgrade to your driving experience!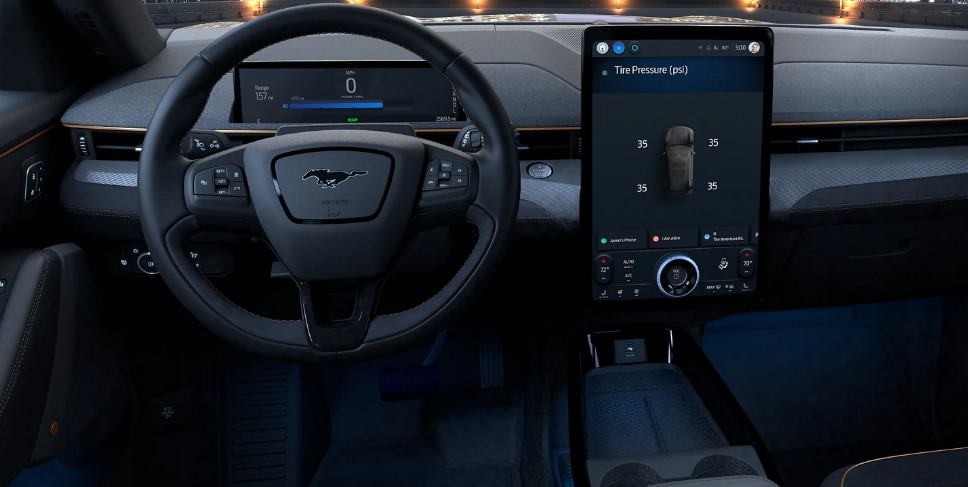 Remember BlueCruise 1.2? It introduced awesome features like the Lane Change Assist, Predictive Speed Assist, and In-Lane Repositioning. Now, BlueCruise 1.3 is building on those features and taking them to the next level.
What's New With BlueCruise 1.3?
It's designed to keep you cruising hands-free for even longer periods of time, making your road trips and daily commutes more relaxing. In fact, you'll be able to use the hands-free mode up to three times longer than the previous version and a whopping five times longer than the first version! That's a lot of time you can spend waving at fellow Ford drivers as you pass them on the highway!
You'll be able to enjoy hands-free driving even through tighter turns. Plus, your Ford will position itself more precisely in narrow lanes. While these tweaks may not be revolutionary, they make your Ford driving experience even better, showing Ford's commitment to steady improvement and rapid innovation.
How Does Ford Keep Making Such Amazing Improvements?
The secret sauce is in the shift from a quarterly release to a weekly one. That's a significant change, both in terms of the tech tools involved and the mindset. Today, the main focus at Ford is to address customer feedback, which plays a huge role in these updates.
They owe a lot of this customer feedback to their Continuous Learning Loop. This genius system collects data (with permission, of course!) from drivers who are using the BlueCruise feature. So far, over 225,000 drivers have traveled a jaw-dropping 95 million miles with BlueCruise turned on. That's like going around the Earth almost 4,000 times!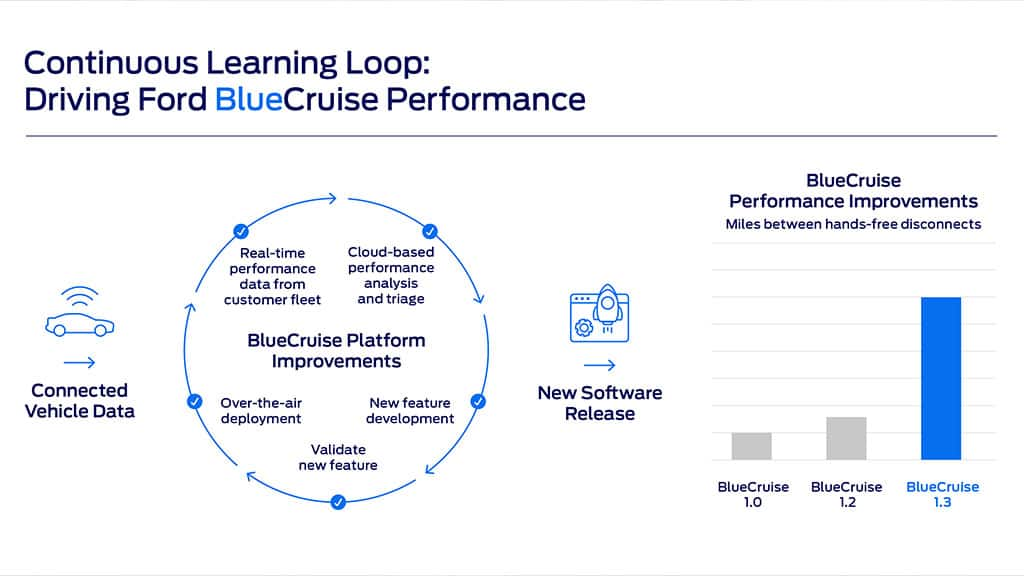 According to Sammy Omari, the Executive Director of ADAS (Active Driving Assistance System) Technologies and CEO of Latitude AI, for the most part Ford receives customer feedback automatically. For instance, if you switch from hands-free to manual control while using BlueCruise, or if the vehicle asks you to take over again, that data is shared with Ford to help them make improvements.
This vast pool of information also includes cool details like what type of Ford vehicle people are driving, where they're driving it, and how they're using BlueCruise. For example, did you know most drivers tend to stick to one side of a lane when they're overtaken by big semi-trucks? This insight inspired Ford to develop the super handy In-Lane Repositioning feature.
What Does This Mean for You?
Your driving experience will be three times better with the new 1.3 update than with the original version of BlueCruise. And for those who started with BlueCruise 1.0, you'll see a whopping five times improvement!
These continuous enhancements are a key part of Ford's strategy to make BlueCruise increasingly attractive. It reflects Ford's evolution from a traditional car company to a modern services company. Just as Netflix keeps offering new content to keep viewers hooked, Ford plans to roll out regular updates to keep drivers excited.
So, imagine your Ford as your iPhone. Regardless of the model, like iPhone 10, 11, or 14, you receive regular iOS updates. Ford wants to bring that same experience to your car, making model years less important, and continual updates the new norm.
Omari says this is just the beginning. With this powerful combination of hardware and Ford's own software, they're building a foundation to deliver even more top-notch hands-free driving features in the future.
What Updates Will We Find with BlueCruise 3.1?
While Omari didn't spill the beans about what's coming next for BlueCruise, he hinted at potential future enhancements, including navigating drivers off highways onto rural and city roads. However, full self-driving, or eyes-off driving (known as Level 3 driving), won't be possible with the current BlueCruise system on models like the Mach-E and F-150 Lightning.
True eyes-off driving, similar to what Mercedes-Benz has been allowed to offer recently, will only be possible on Ford's next generation of electric vehicles, expected around 2025. This new level of driving assistance will require new hardware and a more sophisticated software system.
The new BlueCruise 1.3 is coming this summer for all Mustang Mach-E SUVs! If you own an F-150 Lightning, you'll have to wait a bit longer for the update. But trust us, it's worth the wait.
So, stay excited and keep checking our blog! We'll keep you posted on all the fun things Ford is planning. We can't wait to see what's next!